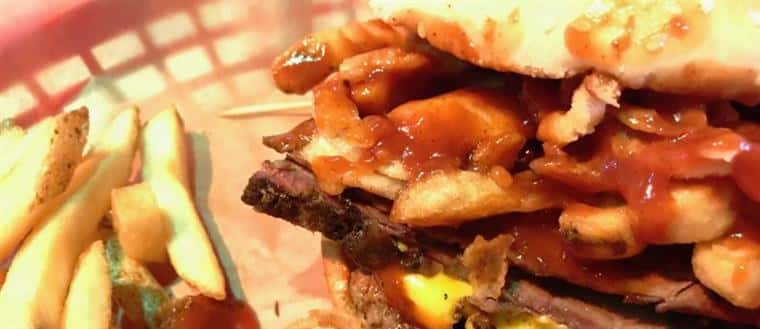 Reviews
"Red Rooster had delicious lunch food."
-Carol Stewart
"Go to Hog Heaven right now and eat some of their food. We ordered takeout while vacationing from out of town, and couldn't have had a better experience. The food was **delicious**. What we ordered: -pork quesadilla -potato soup -pork sandwich -sweet potato fries -peach cobbler -banana pudding"
-Andrew Harrison
"I make sure I visit Hog Heaven every time I visit LaGrange."
-Michele Rosich
"BBQ was really good."
-Paul Scott
"Excellent pulled pork and brisket! Sides were very good as well. Onion rings stood out. Overall great food and service."
-Bill Moody
"Great barbecue."
-Robby Seay
"Best around. Their pork skins are cooked only when you order them. They are piping hot when you get them..the menu has a wide variety to choose from too.also they have added outdoor seating for dining on the spot."
-Larry
"Love this hometown favorite my top picks are the pork quesidilla with Chipotle ranch and the pork pig ears with extra ranch my goodness so good love the food and the people!!!"
-Tiera Gisellè
"Chicken is off the chain , ask for Lou , best server there!"
-Maureen Gay
"This place has the best pork skins always yummy and fresh."
-Derrick Brownlow
"Super service. Great food. Definitely going back."
-Bill Lenox
"Enjoyed hog heaven. Will probably go again and try that prime rib. Lubaby is a great waitress. She knows what she's doing! Lubaby has a great personality and knows how to treat and talk to the customers!"
-Lana Brown
"Pulled pork, sweet potato fries, also pulled pork salad. Always try to eat there when we visit family."
-Garry Cooley
"Got a pound of chopped pork bbq which was all meat, clean with no fat or grissle. According to my husband who is a certified bbq judge, pork was moist with the right amount of smokey flavor - not overpowering. Sauce comes on the side. we'll be back. During COVID the dining room is closed but they are open and offer curbside service greeting you with a smile and a bag of roasted peanuts."
-Sue Rodman
"Awesome pig tater."
-Jbpaul Hendricks
"They made the best barbecue sandwich I ever ate I love that place I never stop coming back good luck to everyone of y'all."
-Mark Brooks
"We're visiting from Florida, and had the taste for bbq. This was our first time at this establishment, and the good was great! Our server was Lu, and she was very friendly! I loved the fried pickles & the pork sandwiches with the sweet sauce was so good!"
-Stacey Sirmons
"Best BBQ in Troup County GA. If you want southern cooking, try the Red Rooster restaurant. It is also excellent. You can now order online and pick up curb side. Be sure to give a good tip to the responsive waitresses who work so hard to meet your needs."
-Don McWhorter